I recently wanted to go to Hungary and looked on the internet to find a flight from Dalaman to Budapest. Because of the times that I had to travel and the fact that Seker Bayram was close I couldn't get the dates and times that I first wanted so I ended up gettting a bus from Kas to Istanbul and then a flight from Ataturk Airport.
The last time I had flown from Ataturk was to UK 6 years ago. I had taken a taxi from the airport to the bus station then. This time I knew a bit more about the place so I thought I would try the Metro (Light rail) system. I expected at least one problem but I found that it was a very easy connection, a lot quicker than a taxi and a fraction of the price too. So I thought I'd write a little illustrated story about it. There are a number of buses from Kas, the one I got leaves at 6.30 in the evening and gets into Istanbul Esenler Bus Station (Buyuk Otogar) at about 9.30 the following morning. It is comfortable and makes stops for passengers to buy food, go to the toilet, stretch your legs etc etc. There are no toilets on the buses so 'go before you go' is a must.
I went on a Pamukkale bus, very comfortable but don't forget that it is a bus and lots of other people are likely to be on it too. A woman travelling alone will not have an unrelated man assigned to the seat next to her and will be well looked after by the bus attendant/conductor/steward. A man travelling alone does not have this luxury and could be sitting next to any other male passenger.
I won't bother going into the details of the bus journey, suffice to say the comfort stops have fairly good washrooms and toilets, plenty of things to buy for presents and snacks, and the tea is sometimes free. There are plenty of announcements about not leaving valuables lying around in the unattended buses but in practice there seems to be very little chance of anybody stealing anything.
Arriving at the Buyuk Otogar the bus seems to go round and round and up and down a lot then finally finds the office of the company you are travelling with and you can get off. The arrangement of the bus park, office and other facilities is very simple. There is a huge circle of bus company offices (167 of them!) and the buses park round the outside, viewed from above it looks like a lot of piglets around their Mum.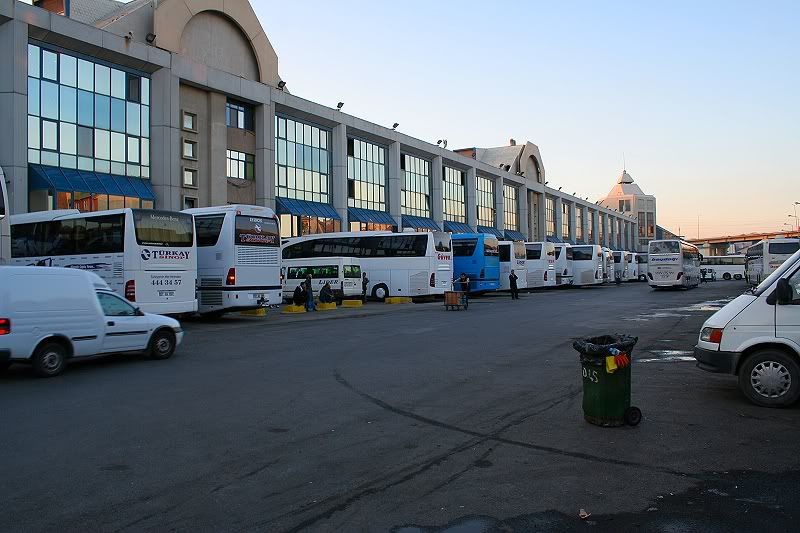 You go into the office through the 'back' door and out through a 'front' door opening into the central area where all the other services are. From most offices you can see the entrances to the central shopping mall where the Metro entrance is. This is where it is useful to have either very light bags or a case with wheels. Unfortunately I had neither and had to lug a heavy case across to the Metro. I won't do that again! The bus company offices have a 'Left Luggage' section so if you have a long time to wait and want to nip into town for a meal you don't have to drag your heavy case around with you, very useful.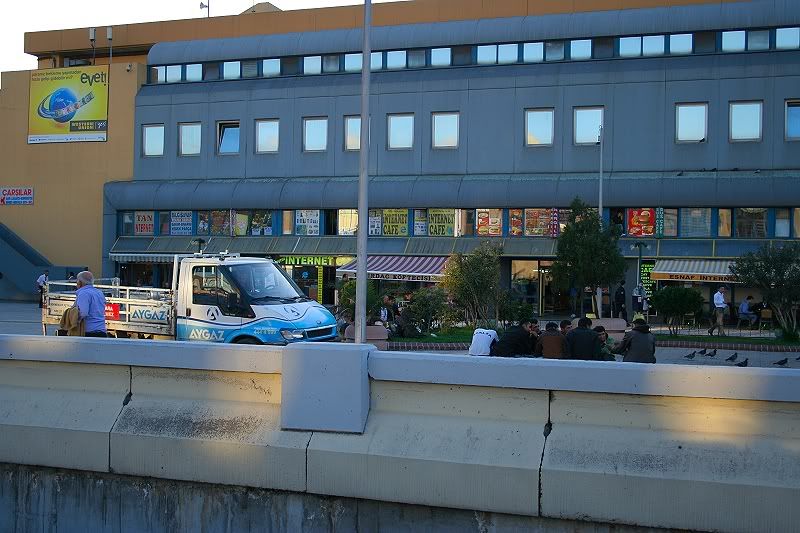 Finding the Metro is just a case of going into the central shopping mall and following the signs. There are booths selling the 'Jetons' which you need to go through the turnstiles into the Metro station. Currently the jetons cost 1.50 TL (the taxi I took cost 18 lira in 2004) and you need one jeton to admit one person to the Metro.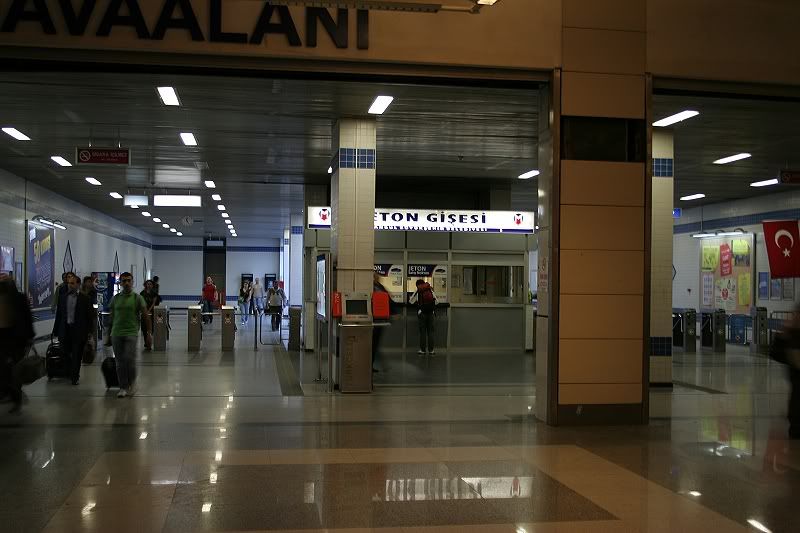 When you go through the turnstiles you put your jeton in the slot and just push through, it's best to put your case through under the turnstile first otherwise you have a struggle trying to get it through. No I didn't get caught out, but the woman in front of me did and Sir Galahad had to come to her rescue, I nearly put my shoulder out too, God knows what that case weighed!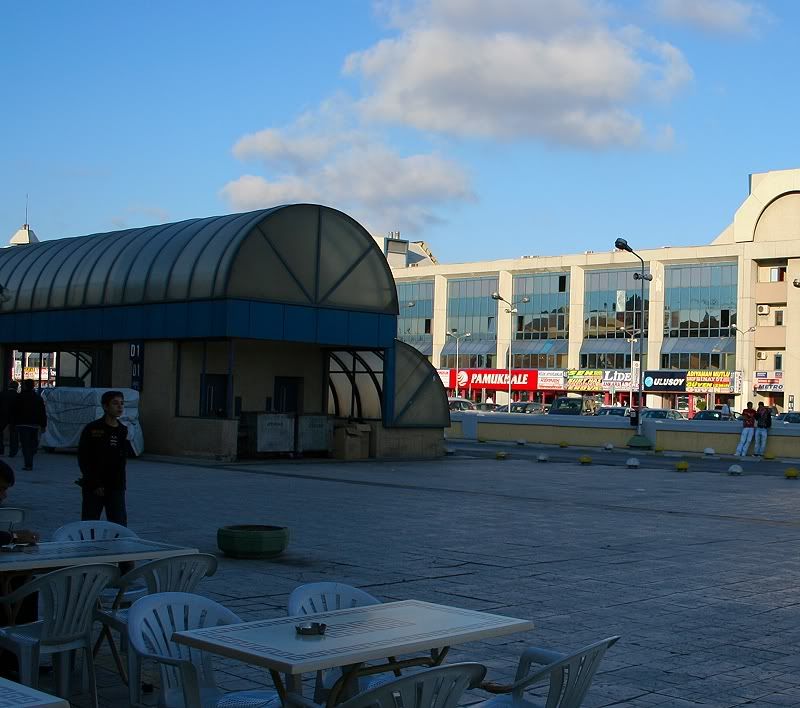 Once through the turnstile you descend to the station and get on the first tram that you see. They all pass through the Otogar station and since the Airport is the last station on the line you can't get the wrong one. There are maps with the stations marked on them just like any other metro or subway and announcements of the next station are made shortly before arrival at each station.
Once at the airport you stagger breathlessly up the escalators and follow the signs to the international departures lounge with your case threatening to rip your arms out of their sockets and your heart pounding like a jack hammer. Or you cruise effortlessy with your wheeled case, baggage trollies are conspicuous by their absence in this area of course. And that's about it! You have all the usual airport facilities and if you go to the Turkcell shop a very attractive young lady will smile very sweetly at you as she makes sure that your phone is enabled for international roaming. Then she goes and ruins your fantasy by saying "rica ederim amca".
If you're coming into Turkey through Ataturk Havaalani you just do the reverse of the above. A couple of things are worth noting though:
There are plenty of Internet cafes around the Otogar so if you have time you can catch up with the 21st Century.
The airport is a WiFi hotspot so you can sit anywhere and get a connection. If your laptop battery is running low you can spot electrical sockets here and there around the airport and no-one seems to mind if you use them to plug in your charger, it's worth asking first though.
Mehmet at one of the cafes will welcome you with open arms, don't mention my name or you'll get thrown out for sure.
Don't try to take photographs of the turnstiles into the Metro, you'll get shouted at by the attendant at the very least, and might have to explain yourself to a policeman. Yes, I was that man. Funnily enough though nobody minds you taking photographs in the airport.
In the Otogar there are lots of men asking you where you are going, they want to help you but will expect payment. It's up to you whether you let them carry your bag or not, I did and gave him 2 lira for his trouble but he knew he wasn't going to get much when halfway across I started asking him in Turkish how his family was. Most will ask foreigners for at least ten lira I should think.
Finally here's a picture of a nice dog that I met, he was a real softy:
And here's another of my transport, I was a bit upset to see LOL across the top of the windscreen: